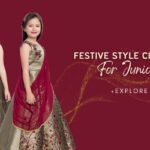 Fashion is constantly changing, not just for adults but also for kids. Girls' casual and party dress trends are both susceptible to change
with the times. We are aware that millennial parents want their young children to follow the latest fashion trends.
And for this reason, fashion-wear.in has created a line just for tiny girls that is filled with love and comfort.
Here are a few outfits that work for any event.
More appropriate for girls and follow kids' fashion trends. We think the trend is adorable and incredibly original.
many have fallen in love with them, and it is safe to assume that printed dresses are fantastic and will remain in style. On www.fashion-wear.in
Flowers are lovely, just like children! They make our life more joyful and upbeat.
And everything becomes enjoyable, lovely, and exciting when we mix these two aspects. For any Indian occasion,
you can get girls tops in a variety of hues and bright combinations.
Denim shirts are still a great option for casual wear. These hues work in harmony to give the outfit an ethereal appearance.
At children's birthday parties, you may often discover this kind of fashion.
CONCLUSION –
There are many different kids' dresses available for you to chose from in. Why wait? Shop til you drop!
online shopping for kids clothes in India becomes the best when the parents come to our place and once they come, they always choose us, as we satisfy them with all kinds of their demands.
prev postEssential Girl's Fashion Advice: Seasonal Clothing
next postBoys clothing for every Moment